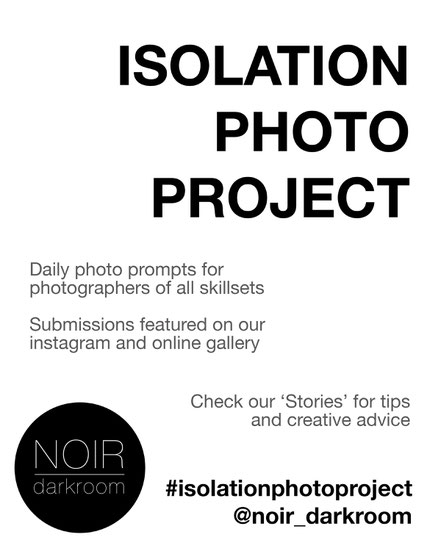 ---
Calling all humans
Join us in participating in our new photo project #isolationphotoproject. We're going to give you daily prompts to help get those creative juices flowing. You don't have to be a photographer just have access to any kind of camera. Phones will do. Be creative or be literal but take a moment from your chaotic day to engage with the spaces around you...see it in a new light (this is a pun, I promise).
Check out our Instagram 'Stories' for some tips and creative advice for each prompt. We will feature your photographs on our Instagram daily (and credit you) and also collate every image to our online gallery.
It is FREE to participate. We just want to stay connected with our beautiful art community. If this all goes well we may start a slide show in our physical window gallery for people in isolation walks.
Photos will be added to our digital gallery (AEST) every evening where possible
---
---
Another day another prompt! Today we are abstracting bodies. To have a successful abstract image we don't want to know what we are looking at straight away. It should take some looking at to go, 'oh wow, that's a body'. To abstract try getting close, warping, pushing, pulling, stretching, bending. Try different lighting, try different framing. Abstracted body does not mean nudes. You can if you like but be respectful as there are kids playing along. It also doesn't mean it has to be a human body. Have fun!
---
Today's prompt is looking through. So we want to add a new dimension to your photographs, one where the foreground is not important but what it is leading to. If you have the capability of controlling depth of field this is a good one for you. You could literally point your lens through something hollow or shoot past something. But still think about what you are photographing and why. Try make your image tell a story. What are you looking past? And why? Have fun with it!
---
The first rule of movement is to never photograph sparklers in the dark spelling love...or fire twirling...please! But there are lots of other ways to capture movement. You can imply movement. Or that moment of tension before movement, where something is on the brink of moving. It's an interesting prompt in this time of stillness but lots of things are still moving around us. If your camera has slow shutter speed options that's another good way to capture movement, or even just focussing on what is happening outside our windows.
---
Time for some symmetry. Yesterday's was a bit more conceptual so we went with a literal prompt today. We want perfectly balanced photos. Find interesting ways to create symmetry, perhaps by using shadows. You can also consider symmetry more broadly such as symmetry in movement, think back to repetition. But also symmetry in ideals and ways of thinking. 
---
Today's prompt is 'broken'. A little more of an abstract idea today so interpret how you feel. We can look at the physical broken, things are getting overused and breaking during this time but we can also look at concepts of broken. Broken routines, broken thought patterns, broken ideals, broken structures. Not giving too many tips today because i want to see how you interpret the prompt.
---
Whoop whoop! It's Self Portraiture day!!!!!! Let's try to recognise the difference between a self portrait and a selfie and avoid mirror selfies with posing and the old MySpace camera angle. Most cameras (including your phone) will have self timer features. I want to see your surroundings, you in your environment. It's all about looking into the distance and looking longingly. Check out artists such as Cindy Sherman, Tracey Moffatt, Vivian Maier for great self portraits. BUT for those of you that are camera shy, find other ways to interpret the self portrait. Flash back to day two when we did still life. Find ways to sum up your identity in an image. Or find ways to warp and abstract your self. Check out Polly Borland for body abstraction.
---
Today are looking at things that are 'Out of Place'. By this we mean something does not fit within the scene. Everything else should make sense except this one thing or things. It could be as simple as a break or mistake in a pattern or an object placed amongst others in an unusual setting. Out of Place could also be a feeling or sense of being.
---
Texture today! Texture and lighting go hand in hand. Really hard lighting will highlight your texture and bring depth to your photograph. We want to be able to feel the texture just by looking at it. Again check your compositions. A good tip for composition today is to try an open crop. So this means we can't see the edges of the subject, fill the whole frame with the texture. We don't necessarily want to be able to identify what the texture belongs to.
---
Today's prompt is...Reflection. Reflection's are cast in many ways from all kinds of shiny surfaces. Try to avoid mirror selfies and mirrors in general unless it's creating something spectacular. Think windows, water and metallic surfaces. Try to use the reflection to add a new layer to your image and maybe look at warped reflections. You could also use the brief to mentally reflect on things such as time and current events.
---
We are looking for repetition today! Quite simply repeated, shapes, line and patterns. Lots of things repeat themselves, including light and movements. For those wanting to push themselves you could also look more into repetitive actions, habits and even thoughts.
---
Today's prompt is....The Shadow! It's a good day for it even if you are staying inside.
Keep an eye on light like you did for day #1 watch how shadows move and warp and alter the things that cast them.
We also left the 'The' in for those that want to take it a bit deeper and want to look at the archetypes and Psychoanalysis. Particularly Carl Jung. The Shadow is all the dark and beastly parts of our psyche.
---
When we think of still life images we think of platers and fruit and vases and draped fabrics and at times skulls. These were painted and photographed to show life's riches. We are in such strange times that it is easy to overlook our own riches.
Look at the clusters of objects around you that tell stories and define you.
Think about the term Still Life independently. Don't forget your lighting and interesting compositions.
Also consider the French, Nature Morte, translating to dead life, or dead nature. Don't forget to hashtag #isolationphotoproject and @ us @noir_darkroom . It's easier for us if you DM images directly. Today we will repost in clusters rather than all at once due to the sheer volume. 
---
Focus on light, especially natural light and the way it moves and morphs through spaces. Illuminated things are usually backlit or lit from within. Some illuminated things are literally glowing. Whilst others are things really well lit amongst darkness or duller light sources.
Focus on the way light moves over time and through spaces. Golden hours are a good time to look for illumination as light spills through windows and crevices causing things to emit a golden glow. Natural light is amazing but can be really momentary so its important to be present within the moment. Feel free to also experiment with artificial light sources.
And finally remember to be creative. You don't simply have to snap an objective photo of the thing. Move around, get close, abstract, look from above, look from below. 
We look forward to seeing what you come up with. Remember to @ us @noir_darkroom and use the hashtag #isolationphotoproject so we can see it and add it to our socials. 
---